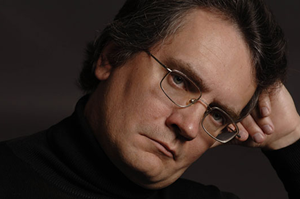 With the recent release of Rachmaninov's Second and Third Piano Concertos, followed by Tchaikovsky concertosy, Konstantin Scherbakov's endless repertoire accomplishments continue to amaze. Specialising in virtuoso repertoire, much of it previously considered unplayable, Scherbakov has been called a "modern Rachmaninov" and has gained international acclaim for his performances of Liszt's transcriptions of the Beethoven symphonies.
A very special repertoire choice has formed the artist's profile with the accent on rarely performed and highly demanding virtuoso programs, often comprising of works that were considered unplayable before. This has been the focus point of the recent features in the "Fono Forum", "Record Geijutsu Tokyo" and in the "Spiegel" magazines.
Scherbakov was one of the first artists signed by EMI for their Debut – Series and in 1995 he became a "BBC International Artist". In the past season his concerts performances took place in the following concert halls: Philharmony of Cologne, Herkulessaal Munich, Tonhalle Zurich, Prinzregententheater in Munich, Liederhalle Stuttgart, Congress-Hall Luzern.With the orchestras: Duisburg Philharmonic Orchestra, Munich Symphony, Stuttgart Philharmonic Orchestra.
Konstantin Scherbakov was also invited as a soloist for a tour of Germany and Switzerland with the Jekaterinburg Philharmonic Orchestra and he was a soloist and conductor on an Italian tour with the Milano Orchestra I Pomeriggi Musicali.
The recital schedule took him to Stockholm, Freiburg, Tokyo, Berlin, Zurich, to Sicily and Poland.
Konstantin Scherbakov's recent releases include the 1st and 3rd Symphonies by L. v. Beethoven / Liszt (a continuation of a highly successful cycle of the Complete Symphonies) as well as the monumental Sonate e-moll by Leopold Godowsky, Vol. 6 of the gigantic project The Complete Works by L. Godowsky ("Marco Polo"). The recording was awarded the Preis der Deutschen Schallplattenkritik in December 2001, whereas his earlier recording of the 24 Preludes and Fugues by Shostakovich received the Cannes Classical Award 2001 (the distinction that such pianists as Ashkenazi, Brendel and Ushida were honoured in the three previous years).
The appearances of the 2002/ 2003 season included performances of all Rachmaninov Concerti with the Russian State Philharmonic Orchestra on a large UK tour, concerts with the Haifa Symphony Orchestra, Arena di Verona Orchestra, as well as with the Enescu Philharmonic Orchestra and recording of the complete Rachmaninov' and Tchaikovsky' concerto repertoire with the Russian State Academic Symphony Orchestra in Moscow.
Festivals: Schubertiade, Klavierfestival Ruhr, Beethoven Festival Krakau, Lebanon Music Festival, Rachmaninov Celebration Festival Zurich (where he performed the Complete Rachmaninov's Paino Works), Lucerne Piano Festival, Zurich Festwochen, Hong Kong Festival, among others.
Born in Barnaul, Russia Konstantin Scherbakov made his debut with the Philharmonic Orchestra at the age of 11, performing Beethoven Piano Concerto No. 1. Soon after, he moved to Moscow to continue his musical education at the Moscow Tchaikovsky Conservatoire with the legendary professor Lev Naumov (whose assistant he later became). After winning an array of prizes at prestigious international competitions (Montreal, Bolzano, Rome, Zurich) he performed with all the leading orchestras of the former Soviet Union, and played recitals in more than 100 cities in his native country.
The triumphant winner of the first Rachmaninov Competition in 1983, Konstantin Scherbakov launched his international career in 1990 at the XXth Chamber Music Festival of Asolo, where he performed the complete Rachmaninov works for piano solo in four recitals, to the manifest approval of Sviatoslav Richter.
Since 1992 Konstantin Scherbakov has lived with his family in Switzerland. His concert activity includes participation in major festivals (Frankfurt, Bregenz, Bodensee, Luzern, Klavier-Festival Ruhr, Bad Kissingen, Schubertiade Feldkirch among others), Radio and TV broadcasts (ARD, SF, Radio France, DRS 2, BBC) as well as recitals, orchestral performances and tours all over the world.
Since 1998, the pianist has held the professorship at the Hochschule für Musik Winterthur-Zurich. He is a jury member in major international competitions and is in increasing demand to hold masterclasses all over the world (Germany, Italy, Switzerland, New Zealand, Singapore, Cuba, Japan).
Scherbakov 's repertoire consists of around 50 concertos and a similar number of recital programs.
In August 2005 Scherbakov played two recitals at the Salzburg Festival to a very enthusiastic acclaim: "One cannot play Shostakovich any better!" (Die Presse, Vienna, 10.8.05)
Program Proposals 2012 – 2013
L. v. Beethoven
Complete Symphonies (Transcription for Piano Solo by F. Liszt)
In 5 recitals
Alternative:
any combination with Sonatas , for example:
Sonata c-Moll op. 14 "Pathetique"
Sonata f-Moll op. 57 "Appassionata"
Symphony No. 5 c-Moll op. 87

*******
Hommage à Vladimir Horowitz
D. Scarlatti 6 Sonatas
F. Liszt Vallée d'Oberman
A. Scriabin Sonata op. 68 "Black Mass"; Etude dis-Moll op. 8
M. Mussorgsky "Pictures at an Exhibition" (Transcription by V. Horowitz)
*******
"Invitation to a Dance"
K.-M. von Weber – "Invitation to a dance" op. 65
F. Chopin – Andante spianato e Grande Polonaise brillante op. 22
C. Gounod – F. Liszt – Valse from "Faust"
Interval
P. Tchaikovsky / F. Liszt – Polonaise from "Eugene Onegin"
P. Tchaikovsky / M. Pletnev – Four Pieces from the "Nutcracker" Ballett
J. Strauss II – "Wine, Women and Songs" (Symphonic Metamorphoses by L. Godowsky)
J. Strauss / G. Cziffra – Tritsch-Tratsch Polka
*******
"Reminiszenza"
N. Medtner Sonata-Reminiszenza
A. Lyadov 2 Preludes
A. Scriabin 2 Etudes op. 8; Valse op. 38
S. Lyapunov 2 Etudes d'execution transcendante op. 11
D. Shostakovich 3 Preludes and Fugues
S. Prokofiev Sonata No. 7 B-Dur
*******
"Auf Flügel des Gesangs"
J. S. Bach Selected Works / Transcriptions
F. Mendelssohn (1809-1847) Selected Lieder ohne Worte
Schubert / Godowsky Selected Lieder
Schubert / Liszt Selected Lieder
Chopin (1810-1849) Selected Nocturnes
*******
"The Best of Rachmaninoff"
Morceaux de fantaisie op. 3: Elegy, Prelude, Melody, Polichinelle, Serenade
5 Preludes op. 23; 3 Preludes op. 32
5 Etudes-Tableaux op. 33 and 39
Sonata No. 2 b-Moll op. 36
*******
D. Shostakovich
24 Preludes and Fugues op. 78
(in two recitals, possibly in one, duration: two hours and 10 minutes)
Click on "Program Proposals 2012 – 2013″ or
Download the complete presentation of Konstantin Scherbakov (.pdf 9.0 Mb)